Winter in Ukraine is damp and cold. Russia has bombed Ukraine's power grids and heating infrastructure. To survive the cold, thousands of families need a heater. Together, we can help by sponsoring a wood-burning stove with a cooking surface.
To supply one wood-burning stove to one family cost $100 dollars. Great Commission Media Ministries has already provided thousands of families with wood-burning stoves for heating and cooking. Thousands more are needed.
This winter, please consider sponsoring one wood-burning stove for one family in Ukraine. Perhaps it will be the most important gift you can give to a family in their time of suffering.
Thousands of families will face freezing temperatures without heating this winter. On the front lines, fathers and sons are fighting for their families, wives, children, and their motherland. We can help keep their loved ones stay alive.
Please click the link to the donations page.
60-second video: Wood-burning stoves for Ukrainian families.
ABOUT GREAT COMMISSION MEDIA MINISTRIES
Overview video about the scope of our ministry.
Winter is cold and damp in Ukraine
Thousands of families are in need of a source for heat. For $100 dollars you can supply one heating stove to one family. GCM Ministries has provided thousands of families with a wood-burning stove for heating and for cooking. Thousands more are urgently needed.
Devastation in Kherson
We received a call from one of our team members military pastor Aleksander. Russia has shelled the population centers of Kherson county 50 times in one day.
Your gifts at work!

108
Megacity Saturation Campaigns

45
Years sharing the Gospel to closed countries

900
Evangelistic TV programs produced annually
Read our latest Ministry Update PDF.
What is happening in Ukraine?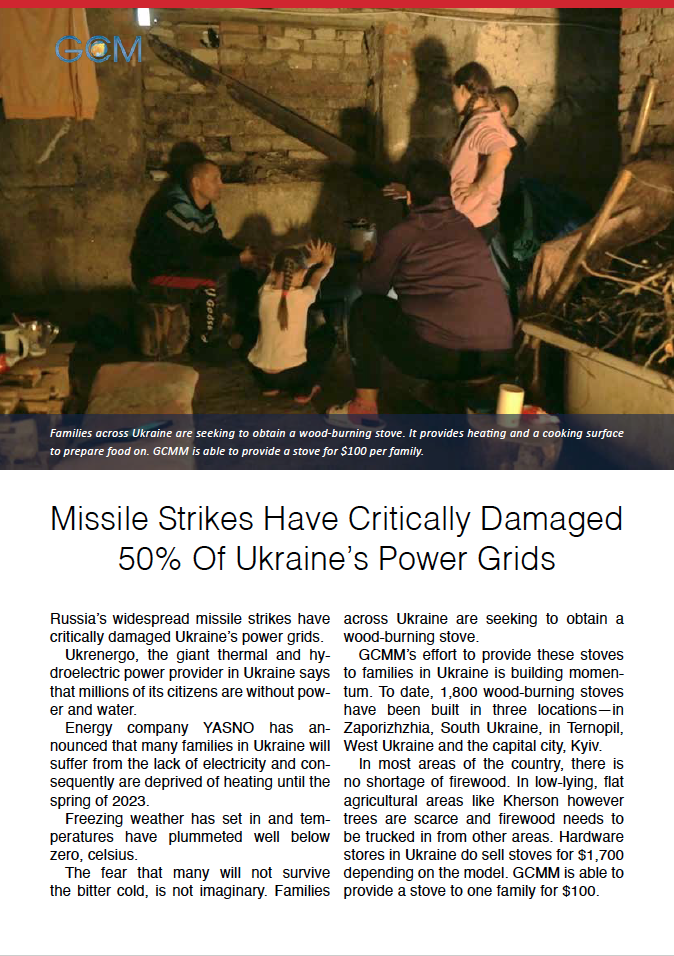 Stay updated on what's happening.
Hear the latest news from our teams on the ground by signing up for our newsletter. Find out how we're sharing the Gospel within the borders of Middle Eastern and Asian countries, and discover how lives are being transformed by the Good News. Simply subscribe to keep up-to-date today!