Today, over 9,000 Jewish people have been connected to local congregations to learn more about Jesus Christ!
As you know, Jesus was Jewish and his ministry took place within Israel. GCMM recognizes the special significance of the "Children of Abraham" and is working tirelessly to share the good news of Jesus Christ to the Jewish community in Israel.
Our newspaper and radio ministry shares the Gospel with Jewish people throughout Israel. But that's not all. Thousands of evangelistic books have been given to people living in Jerusalem and beyond, communicating the exciting message of Christ.
Events and Megacity Campaigns
We plan unique events for Jewish people living in Russia and special retreats for Jews in Finland. We've found events and retreats to be especially effective ways to share the Gospel.
Megacity Campaigns in Israel
One of the most effective ways we share the Gospel with Jewish people living in Israel is through mega-city campaigns. These campaigns coordinate radio, television, print media, social media and visual advertising to share one unified message—the message of Jesus Christ with people living in Israel.
Our call centers from mega-city media campaigns have received over 70,000 calls from Jews, Arabs and Druze people living in Israel. GCMM proclaims the Gospel in three languages throughout Israel and Palestinian territories.
Learn More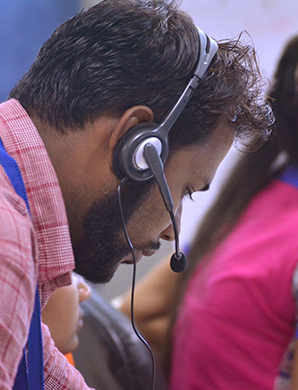 "It is wonderful to see that so many people are hungry for God's Word. We are overjoyed that they are accepting Jesus as their Savior. Many Muslims have called in requesting the book."
Venise, Call Center Worker, Israel